1、信息咨询∶依托与我们合作的院校、专家及科研机构,提供地矿及油气勘探开发领域相关的技术咨询,以及与地矿及油气业相关的法律法规咨询。
Information consulting:We offer technical consulting in relation to geology & mining,oil &gas exploration and development, as well as legal consulting regarding geology & mining and oil & gas industries in collaboration with our partner universities, experts and research institutions
。

2、项目对接∶进行投融资对接,并根据客户需求,对项目进行不同深度的介入。

Project linkage: We connect ivestments and financing and willivolve in the projects at dfferent depths according to customers demands.

3、项目考察∶定期或不定期组织行业人士参加国内外的行业会议及项目考察,并可代办与其相关的各项事务。
Project surveys: We organize industry professionals on a regular or iregular basis to participate in domestic and intemational industry meetings and project surveys.We may also handle other relevant afairs for and on behalf of our customers.

4、会议会展∶定期与不定期地组织举办行业会议与展览,为客户搭建自我展示与互相Conference and exhibition service:We host and organize industry conferences and exhibitions on a regular basis to build a platform for customers to exhibit themselves and exchange with each other in order to facilitate the favorable development of the industry.

5、行业猎头∶为地质矿产行业、油气行业客户提供人才输送服务。
Industry talent acquisition: We offer talent headhunting service to customers of geology & mining,oil and gas industries

6、定制培训∶根据客户的需求,如劳务输出、海外承包工程、单位培训等,为客户定制个性化的外语培训服务。
Customzed raining:We offe customized foreign language training service to customers according to their demands such as labor export,overseas contracted projects and employees taining.

7、企业推广∶通过多种线上与线下渠道,为客户公司进行形象宣传与产品推介,扩大其企业知名度与影响力。
Enterprise advertising:We offer image publicity and production inroduction service to our customers via online and offline channels so as to increase their reputation and influence.

8、客户代理∶为国内外客户做代理商,代理其产品,以及代理和经办客户所授权的事务。Customer agent: We act as product agent for domestic and intemational customers and manage their authorized affairs.

9、数据咨询∶利用我们的(全球)数据库系统,借助我们专业翻译的技术优势,为客户提供国内外有关项目的数据咨询服务。
Data consulting: We offer data consulig service to customers on relevant domestic and intermational projects by using our (global) database system and taking advantage of the technical strength of our professional translators.


经典案例
CLASSIC CASES

能源咨询 Mining & Energy

主要涉及地矿与能源产业链的信息服务、技术咨询、法律法规咨询、投融资项目对接等内容。专家和顾问来自于加州大学、迈阿密大学、地质大学、石油大学、矿业大学、北京大学等院校与相关科研机构。我们的宗旨是为海内外的客户提供全方位的行业服务。
We are dedicated to providing mining and energy information services, technical consulting, legal and regulatory consulting, investment and financing consulting, and many other services. Our consultants are professionals from the University of Califomia, Miami University, Peking University, and other geosciences, petroleum, and mining related universties. We provide comprehensive services for our domestic and international clients.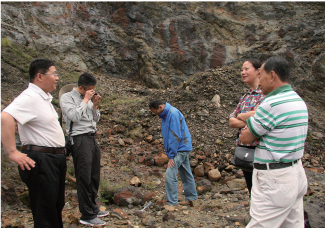 1.2013年吕国博士陪同中国地质调查局领导考察非洲
乌干达基伦贝铜矿

Dr.Lyu Guo accompanying leaders from the China Geological Survey to inspect copper mines in KilembeUganda
月
2013年

2.阳光创译吕国博士参与中国企业同乌干达政府的
项目收购谈判并向乌干达副总统爱德华做汇报

lDr.Lyu Guo, CEO of Suntrans,participated in the mining acquistion project negotiation of Chinese enterprises and reported to Vice President of Uganda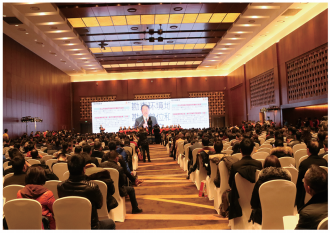 3.阳光创译与兄弟公司合作共同承办2017中国矿业全产
业链大会(第二届)

Suntrans co-hosted the 2nd China Mining Industry Chain
Conference 2017 with the partner companies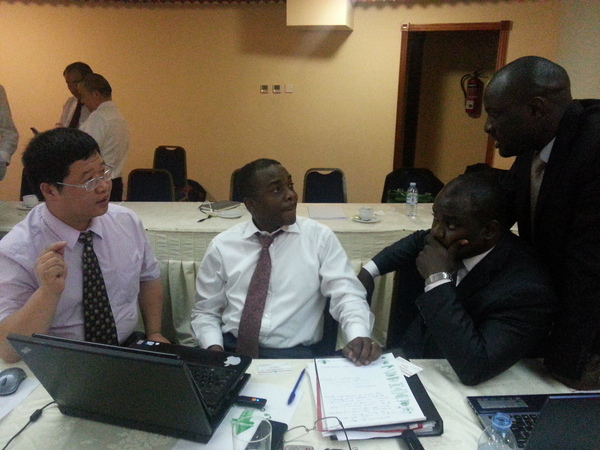 4..吕国博士在乌干达政府谈判现场与总统的律师威廉姆谈判
Dr.Lyu Guo negotiating with one of President Museveni's lawyers in Uganda.2013