The 2017 (the 19th) China Mining will be comprised of themed forums, an international mining ministers forum, a CEO forum, "the Belt and Road" mining cooperation forum, an international geological survey directors forum, many topical sub·forums, and promotional conferences for mining cooperation projects. Suntrans is looking forward to meeting you at China Mining this year at our booth N5-5418!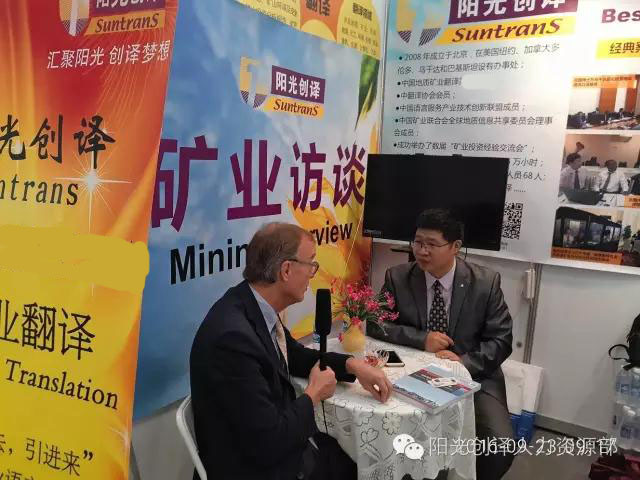 Dr. Lu Guo, CEO of Suntrans interviewing Magnus, President of the Swedish Raw Materials Group, at China Mining
Themed forums: These forums will invite many famous international experts and scholars in the fields of economy, mining and finance to talk about international macroeconomic development trends, developments in the global mining situation, mining investment and financial capital markets, sustainable mining development, etc.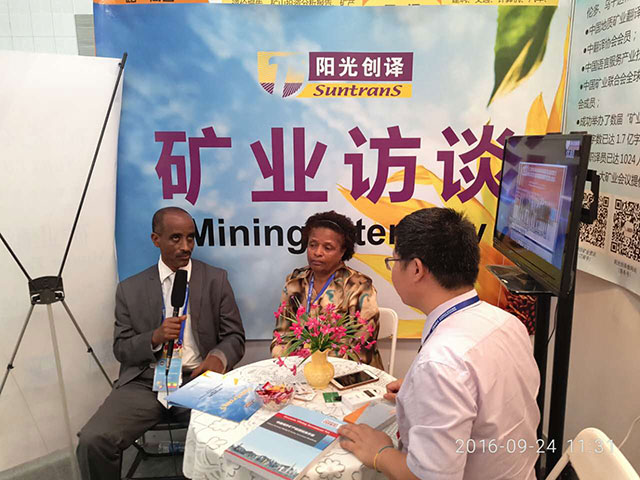 Dr. Lu Guo interviewing the leaders from the Ethiopian Mining Ministry at China Mining
International mining ministers forum: In this forum, mining ministers from different countries will introduce the mining development and investment situations of their respective countries.
CEO forum: This forum will have senior executives from major domestic and international mining companies and related financial agencies talk about mining development opportunities and future mining development strategies.
Suntrans staff and Sudanese officials at the "the Belt and Road" mining management officials seminar
International geological survey directors forum: survey bureau directors from different countries will introduce the latest findings from their national geological surveys and mining exploration projects, as well as discuss general plans and major developments in international geoscience cooperation.
"The Belt and Road" mining cooperation forum: this is the first time this forum has been organized. This forum will invite mining ministers, ambassadors, mining executives, representatives from famous financial agencies and international organizations, and famous economists from the countries and regions involved in the Belt and Road initiative to discuss policy coordination, facilities connectivity, free trade, financial integration and intercultural bonding. This forum aims to promote mining cooperation, and encourage parties to complement each others advantages in order to explore a way for China to contribute to global governance, and promote economic growth in the regions along the Belt and Road.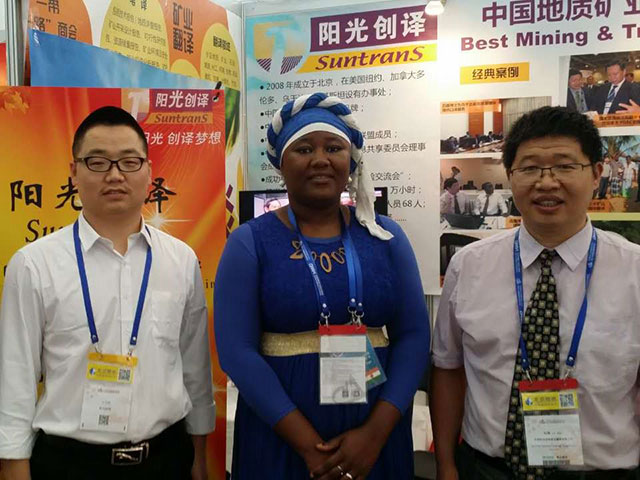 Dr. Lu Guo, Wang Shoufa, and an assistant minister from Nigeria
Topical Sub•Forums: There are over 20 planned topical sub•forums separated into five sectors: mining policy explanation, mining investment and financing, mining product markets, prospecting and development, and green mining development.
On the basis of continuing to help manage international mining situations and investment policy, mining rights management policy, geological technology innovation, new developments in appraisals of Chinese geological surveys, comparisons of international mineral resource reserves, foreign investment for Chinese enterprises, Sino•African mining investment cooperation forums, mining/processing/smelting techniques and equipment, gold and other precious metals, staple minerals, and other such topics that previous forums have covered, this year 's conference adds new forums such as: non•conventional and new energies, internet+ mining rights, comparisons of Sino•foreign mineral resource management law, industry leaders salon, applications for mining products and precious metals in a low•carbon future. This year's conference will also discuss hot topics within the industry, encourage face•to•face interaction with mining enterprises, and encourage professional connections to revitalize the market.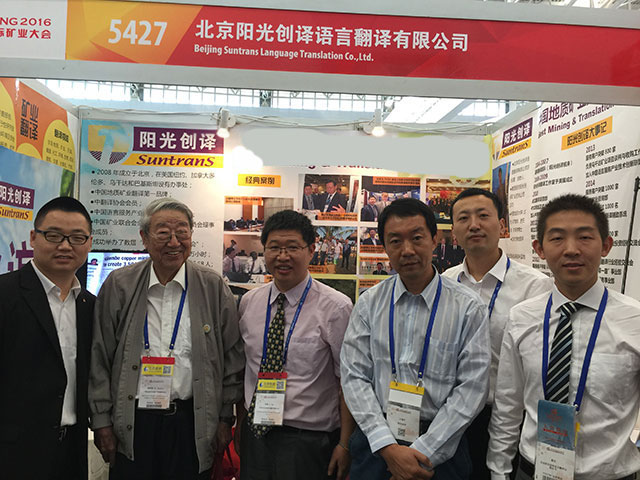 Dr. Lu Guo with Pei Rongfu, a founding scholar in China's mining industry, and others
Promotional conferences for mining cooperation projects: this year's conference will host events that encourage cooperation between countries with mature mining industries (such as Canada, Australia, South Africa, etc.) and Latin American and African countries which are rich in resources (such as Argentina, Peru, Chile, Mexico, Nigeria, etc.). These conferences also focus on explaining mining development production chain implementation for countries and regions along the Belt and Road, and provides a chance for these countries to promote their cooperative mining projects. Officials from the Ministry of Land and Resources, China Geological Survey, the China Mining Association, and the Tianjin Municipal Government will participate in the promotional conference and deliver speeches. Additionally, many enterprise promotional programs will be organized to build a bridge for mutual benefit.